Malwarebytes is a very popular free (with optional paid versions) anti-malware application and is renowned both by regular consumers and tech professionals alike for being the best at removing malicious files and programs. This guide will walk you through how to download and run a scan in Malwarebytes.
NOTE: This article contains steps or information that may become irrelevant or incorrect over time. Last updated on:
02/02/2020
Disclaimer: This page mentions specific products or services. Unless specifically stated otherwise, they are not sponsored or endorsed in any way. (Learn More Here)
Part 1: Downloading Malwarebytes
Follow the steps below to download Malwarebytes:
Go to Malwarebytes's official page by going to https://www.malwarebytes.com
Click on the "Free Download" button

If prompted to purchase Malwarebytes, decline and continue to step 3

Save the file and launch the file by double-clicking on it. This will begin the installation process.
Follow the displayed instructions until you see a screen that is the same or similar to the image below.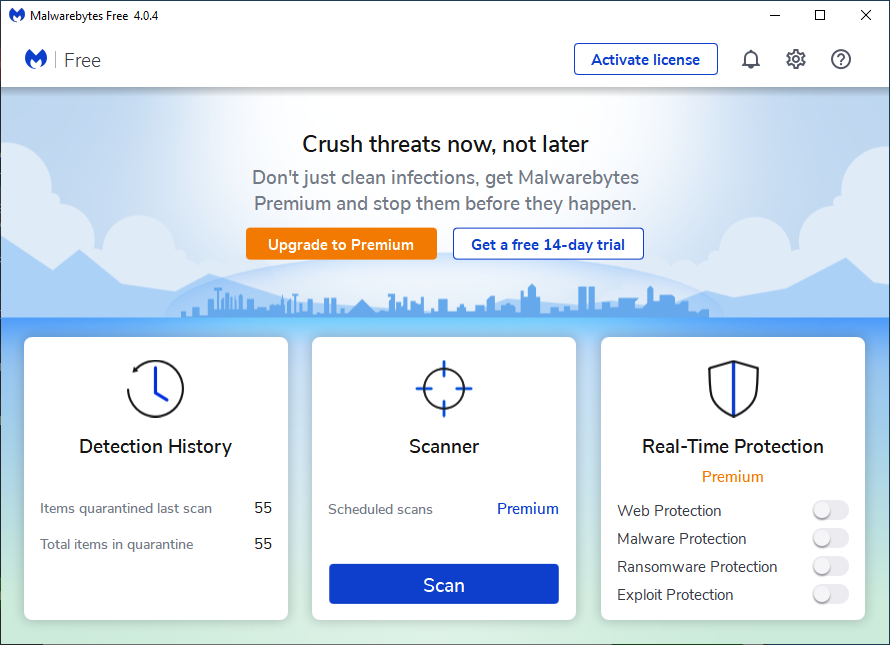 Part 2: Running a Malwarebytes Scan
Once Malwarebytes is installed, you can now run a scan of your computer.
Look under the Scanner menu and click the scan button.
Click "Perform full scan"
Once the scan is complete, if it detects a threat, it will quarantine the suspicious file and you can later choose to restore the file or delete it.
Note: Malwarebytes may sometimes detect legitimate programs as malware.